Fullerton Union High School Reunion

Week-end of March 23 and 24, 2001

Gordon Crilly and Gene (Jones) Matthews trying to identify the baseball team members.

Earlene Skelton Boyd and husband Duane ('54) and Roger

Sam McGaughy and wife Joan (Blevens) '52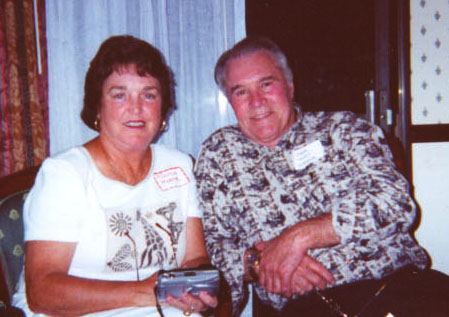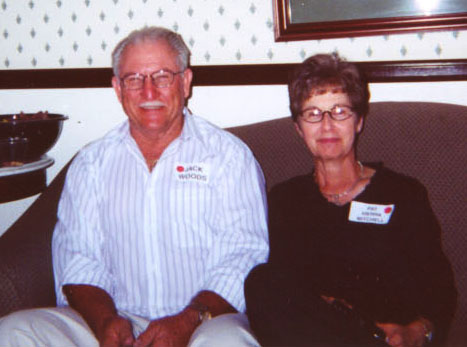 me, Jo (Fletcher) Hodson, Anita (Mills) Johnson and her husband

Jack Woods rode his motorcycle 6 hours down to the Saturday luncheon and party, but says he'll get here for the Friday night party next year.


Alumni from the classes of the '40s have started a yearly all-class reunion luncheon. This 3rd year of the Pow Wow luncheon, Pat Vierra Mitchell and I tried to contact as many of our '53 class members as we could, and our class had the most participants of any class attending.

Pat and her close buddy from the class of '52 , Norma Turman Weaver, held open houses at a nearby hotel on Friday and Saturday night. They were well-attended and were one's best shot to really have some time to get re-acquainted.  Roger (Knute) Butler had the most fun as he had never been able to attend a reunion, and had, in fact once even been on the Memorial page of our class's web site. Fortunately, a friend of his saw his name on the '53 web site and contacted our web master, Earl Gibson, and said she had seen Roger that morning and he was looking pretty healthy to her. She gave us his phone number, and he was real tickled to finally be found. He, at one point, had even gone to the high school to try to find some contact for our class, but had no luck.

He and his wife Donna brought massive amounts of treats to the open houses and Donna took 4 rolls of film. We are teasing them that if all her pics are displayed, we will have to call it "The Roger Butler Show".

Gordon Crilly travelled from Kansas and stayed at his long-time neighbor and classmate Eula Alee Reed's house in nearby Laguna Niguel. He brought an elementary school picture of the Buena Park's baseball team that we all enjoyed seeing. Especially Gene (Jones) Matthews who was also in the picture.

Earl Gibson, our class of '53 web master, flew in from Oklahoma.

Many of the classmates from out of town stayed at the same hotel, so they all had a great time getting together for breakfasts, etc. All I know is that when I arrived at the Friday night party and asked the manager where Pat's room was, he told me to tell those wild kids to quit having so much fun.

Pat and Norma are going to throw open houses next year too, so get your reservations in early for the 2002 Pow Wow or at least plan to get to the parties.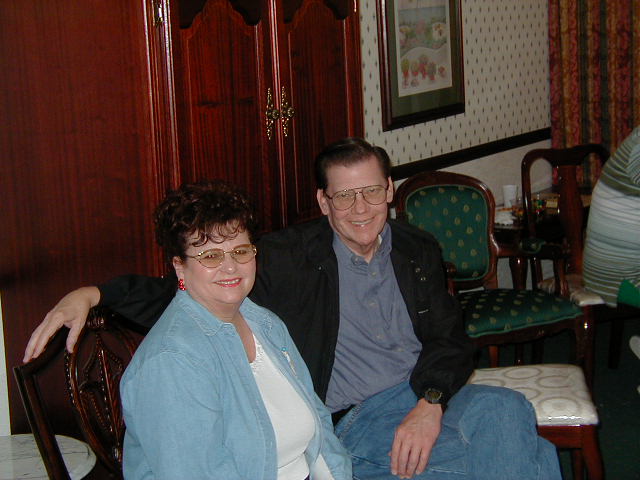 Arriving at the Friday night party (Gordon Crilly in the background)

Donna and Roger Butler during one of the rare moments Donna wasn't snapping pics.

Nancy Moore '52 and Earl Gibson

A better picture of Anita and hubby

Shirley (McFarland) Tardie, me, Sam McGaughy looking at articles I've cut out from the local newspapers over the years. I had the news story of Sam, his cousin and uncle who were all FUHS star athletes.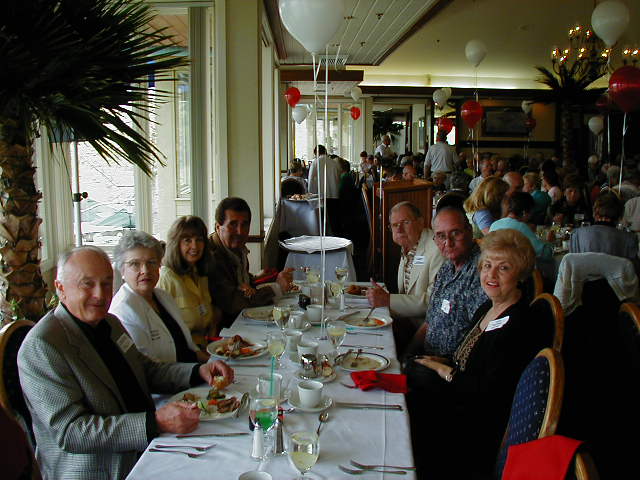 Gordon Crilly, Eula (Allee) Reed, Trudy (Cole) Giannelli and husband, Sue (Burns) Boyd, Jake Boyd '52, and I don't know who- someone tell me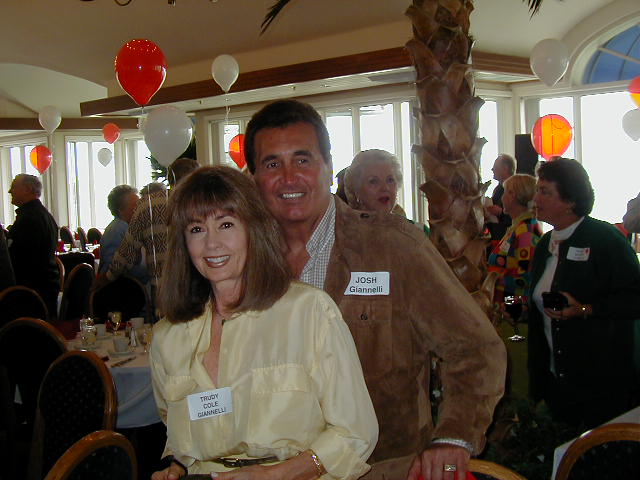 Trudy and Josh (and notice Joy King and Nancy Moore '52ers)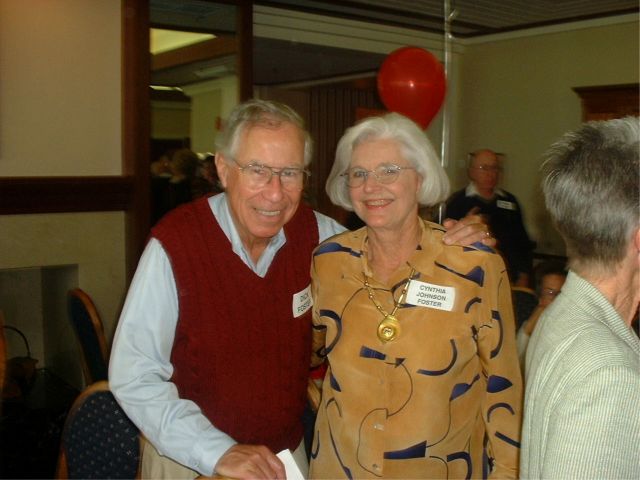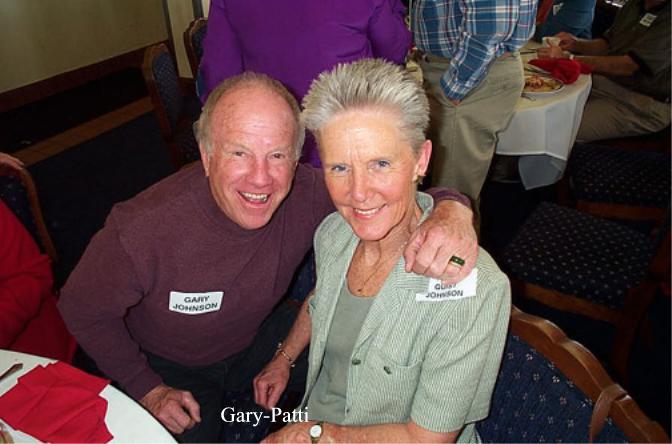 The following pictures were rescued from the '53 site (Earl's site) in case he has to take them off to display other pictures. If there are other pics on his site that you want, go there, left-click the thumb nail pic and then RIGHT-click the bigger pic and save it on your computer.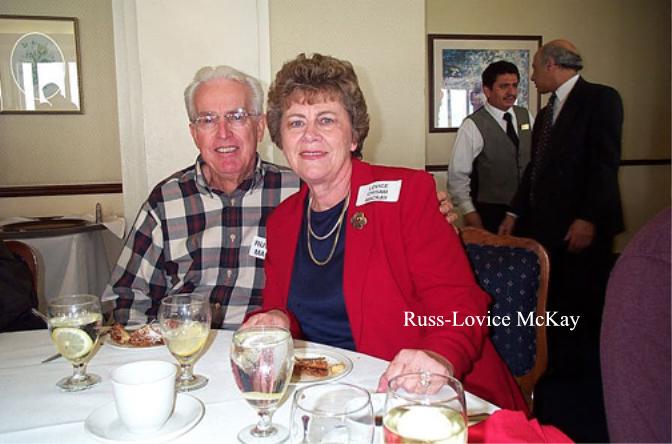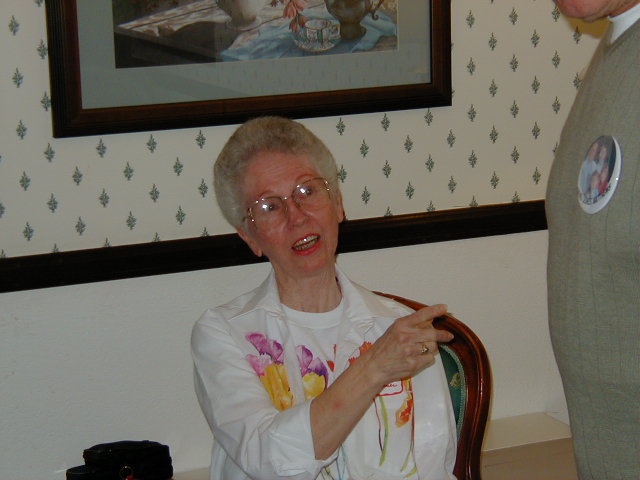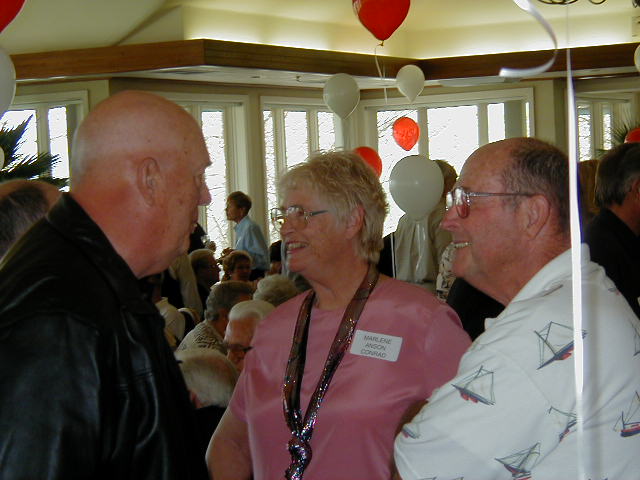 Gene Rosen, Marlene (Anson) Conrad, Hal Conrad ('52)

Shirley (McConaughy) Ranabauer must be admiring Gene Jones' grandkids.

The pictures will take a while to load so please be patient.

Dick and Cynthia (Johnson) Foster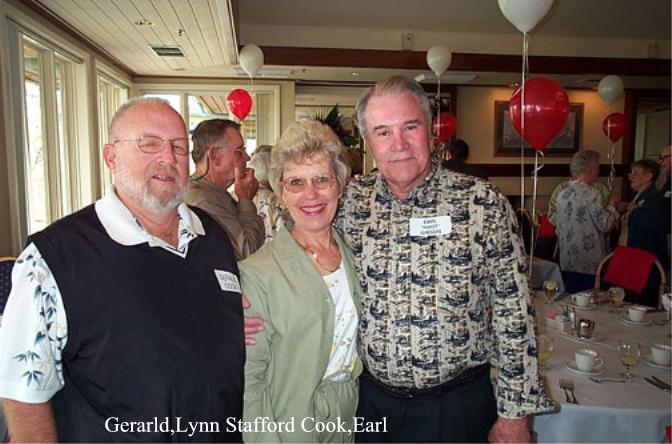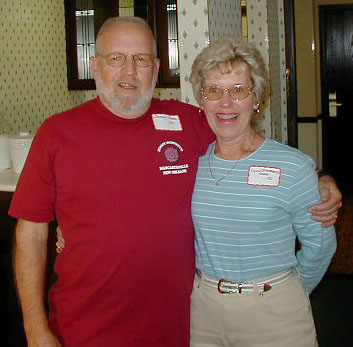 Gerald (he wants to be called Gerry) and Lynn (Stafford -not related that we know) Cook