Scroll down to see some news articles. I am saving some space here for links.

(Work in Progress)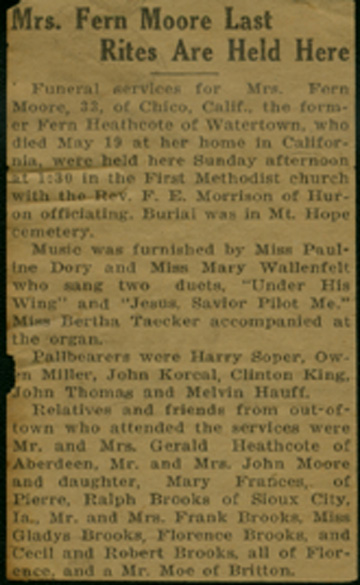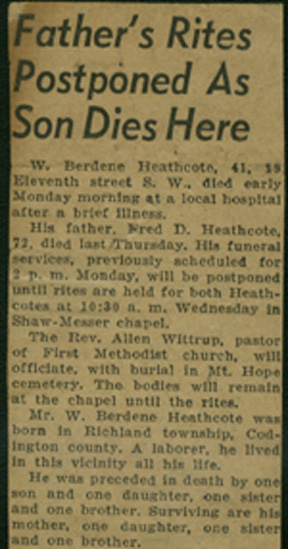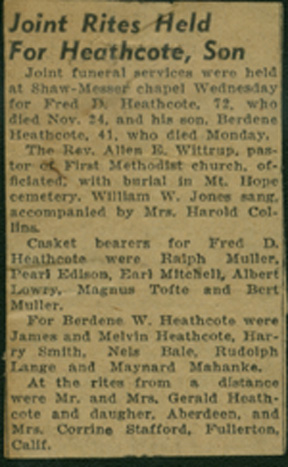 Thursday, November 21, 1949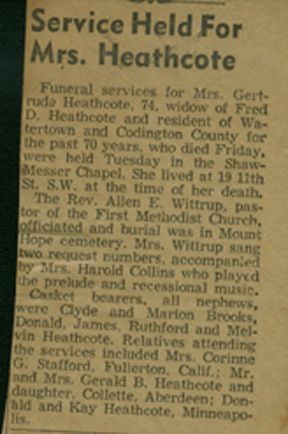 If you want to save any of the jpegs (news articles and pictures) on your computer or storage device, RIGHT-click on the jpeg and then click on "Save-As" and browse to the destination where you want it saved.

Monday, November 25, 1949

Wednesday, November 27, 1949

Dear Connie Jean,

I just finished reading your web page.  I did not find the Heathcote page, but perhaps I perused it too rapidly.  I have decided to keep on working, so I have a new position with the State of Minnesota.  I drive on Sunday to Anoka, MN and will be working in the area of IM & R.  Illness Managment and Recovery; a program of training the trainers, teaching the teachers, and eventually changing the way the State of MN provides mental health services. 

I am thrilled at being selected as the number #1 candidate.  They had three in mind, but they called me in November, and I was their selection. 

Very validating and affirming since I will turn 71 on my next birthday, and am loving that I can work and provide a continuous body of skills and knowledge to the people in my field.

I did sent out some Christmas cards, but found myself in the opposite end of the state with my address labels.  I hope yours was one of them.

I had a stray cat on my deck this morning.  She was all fluffy and cold.  I thawed a raw hamburger for her, and now I have a pan of leftover turkey sitting out for her.  She is very skitterish and as soon as I opened my door to put out the food, she ran away.  I called "kitty" and she stopped, and then when I was in the house away from the door, the hamburger disappeared. 

The last time I fed a "stray" it turned out to be my neighbors pet cat that she said frequently "went away from home and begged from the neighbors".  I love cats.  My caprice lived to be 17 years old.  Bogie and I got a little dog after that, and Skippy lived 14 years.  I had to put her to sleep in October.  It was sad, but she was so miserable, I felt relieved to take her out of her misery.

I am listening to the tsunami surviver stories, the food distribtion, and all the trauma.  It is such a tragedy.  No one who has never distributed food and supplies to others, let along people who speak another language, can understand the huge task it is logistically. 

When we had that flood in 1997, I worked with Catholic Charities.  We had elderly people who could not leave their flooded homes, and then when we tried to explain to them about the necessity of leaving the area, and applying for aid, they would not apply because of the "SBA" being selected as the agency to give out money and aid.  They explained that they did not "need a small business loan!  It was quite a mess.

We had a 15 mile wide wall of water heading north; the Red River flows north to Canada, and the ice at the receiving end prevented water from moving north.  Whole towns, schools, nursing homes, and families were airlifted out of the way, or driven out by bus.  Hospitals were full just to house people.

That winter we had 119 inches of snow-10 feet of snow on the level.  Drifts were up to 40 inches high as they climbed up the side of houses, trees, barns, garages.

It was a very immense task, and we had a 3 year out date for aid just to give people some resemblance of getting "back to normal."  I can hardly comprehend what will happen in Asia over time.  I hope we don't forget after a few months.  And I hope we can find enough people to help with 'getting the aid" to the people before they starve, or become so ill they will not be able to eat.

I will close for now.  You may want to put this on the Heathcote page for now.  Take care,

Love and Prayers,

Cousin Marian Heathcote Bogenreif

Fergus Falls, MN 56537

Marian Heathcote Bogenreif (Melvin "Hepsy" Heathcote's girl) sent this following e-mail 1/2/2005 Marian's father was my mother's cousin so Marian and I are first cousins, once removed, but because her father and my mother combined the 2 households for a couple of years when they both hit hard times, we are more like sisters. I found a picture of Marian and put it farther below.

We need more relatives to send in their experiences and pictures!

Be sure to go to the bottom to see an e-mail sent to me by Marian Heathcote Bogenreif on 1/2/2005.

I have a picture of her farther down on the page and also a picture of her sister Loretta.

Most everything here is about the Fred Heathcote family. I am trying to get a Dinsdale family tree and some pictures of the relatives.

Fred Heathcote was my maternal grandfather.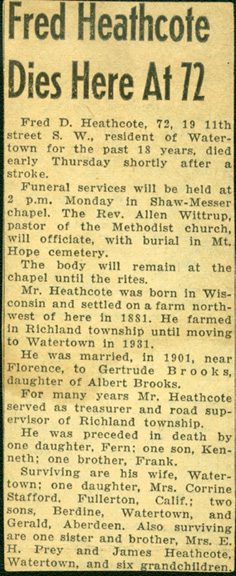 Cousin Bernadine (Bonnie) Heathcote Collins sent me the following pictures.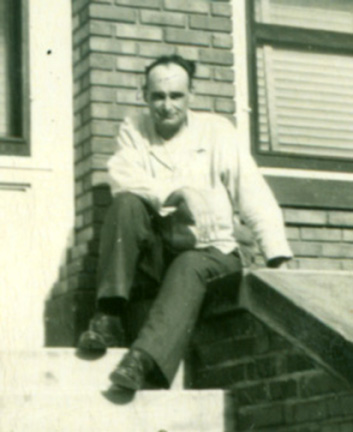 Berdine (Bugs) Heathcote  (Bonnie's father)

Fred Heathcote and Gertrude Brook's children:

  Gerald (Do)

  Kenneth

  Fern

  Berdine (Bugs)

  Corinne (Connie)

Gerald's daughter is Collette the 2nd.

(This girl was born after Fern's girl. There wasn't much confusion about the same names as we never saw Fern's girl who lived in California.)

Kenneth's children are Donnie and Kay.

Fern's child is Collette the 1st. She likes to be called Kathy now.

Berdine's children: Bernadine (Bonnie) and Laura Jean who died at about age 4 from measles, I think.  It is too sad to think about.

Corinne's child is me, Corinne Jean (Connie Jean).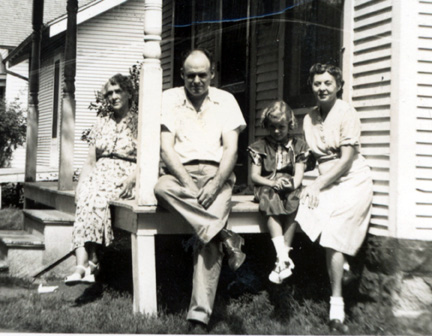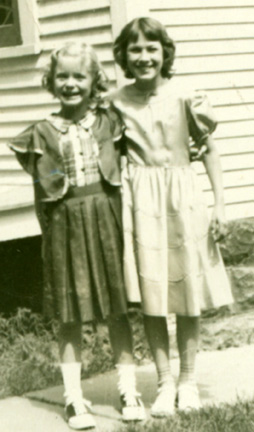 Grandma, Gerald (Do), Collette, and Katie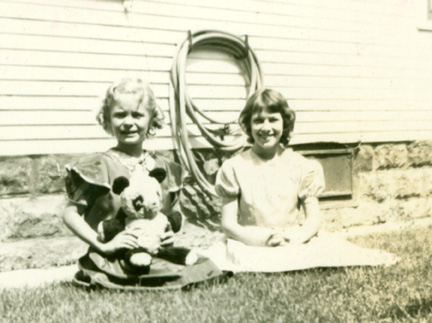 Cousins Collette and Bernadine (Bonnie)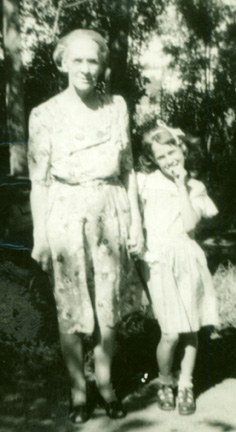 I took this picture when I went to South Dakota to visit in 1953. Bugs and Bonnie lived with Grandma and Grandpa. Bugs had an enlarged heart from having polio as a child, I think. Bonnie's little sister had died several years before.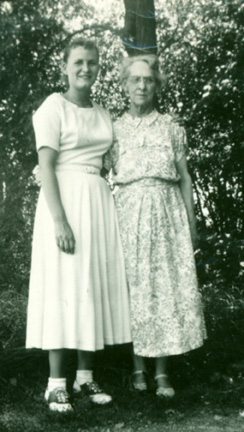 Grandma and me. I had just graduated from high school so the year was 1953. Uncle Hepsy (really Mother's cousin ) (Marian's father) had given me $10 dollars for graduation and I had just bought this dress and one other at a sale in Watertown. (I never had to worry about money burning a hole in my pocket.) Cousin Loretta (Marian's big sister) had given me the ride to Watertown from California as a graduation present.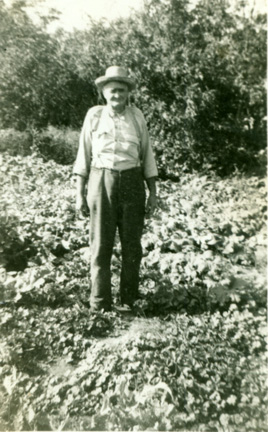 Grandpa in his garden. He grew pumpkins for the whole neighborhood and grew horseradish that he fixed and sold to his friends at the poolhall.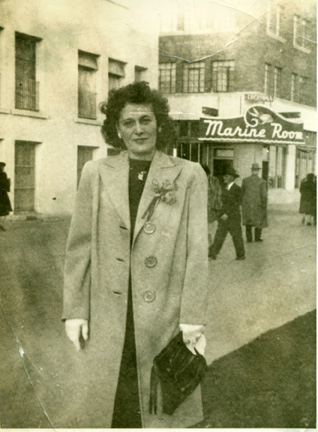 Corinne Gertrude Heathcote Stafford (the family's baby). Mother told me that her dad had to take her with him everywhere because when she was born, Grandma handed him the baby and told him, "Here. This was your idea.".

When she was a young girl going to dances and Grandma would worry about her, Mama's big brothers would tell Grandma, "Don't worry. As soon as they get her to the first streetlamp, they'll drop her."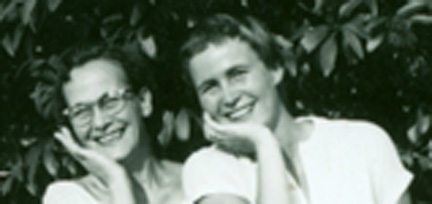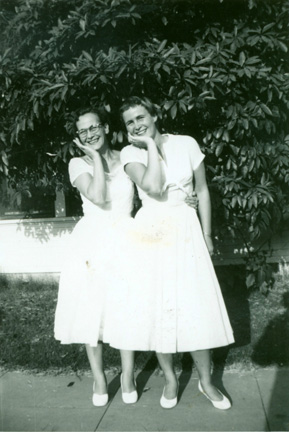 Mother and I using her pose for her high school annual. It was the summer of 1955 and I was visiting her in California from Highland Park, Illinois where I was working for my room and board and going to Lake Forest College.

The following pictures were provided by Cousin Collette Heathcote Walz.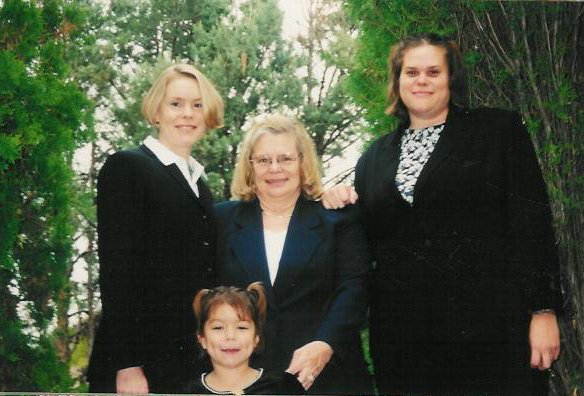 daughter Kirsten, Cousin Collette, daughter Jenny and Jenny's daughter Celeste    2004?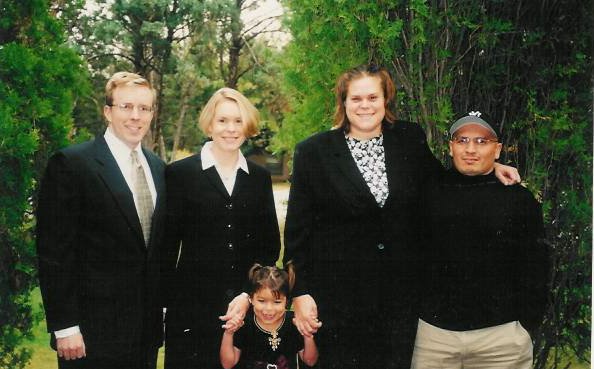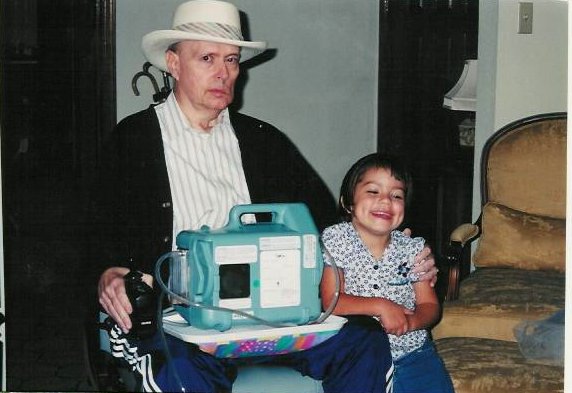 Collette's husband Fred shortly before his death from cancer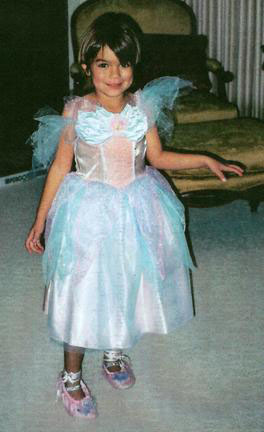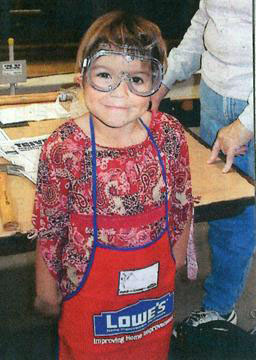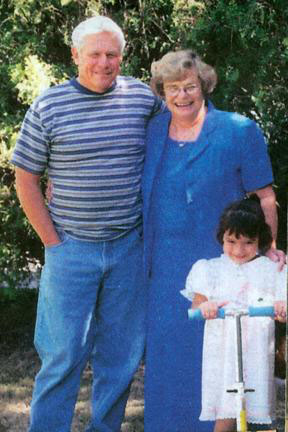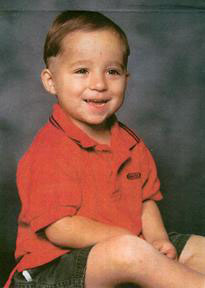 Floyd and Collette and Celeste

(Long-time friends, Floyd's wife died from cancer about the same time that Fred died.)

Zachary, Floyd's grandson

New spokeswoman for Lowe's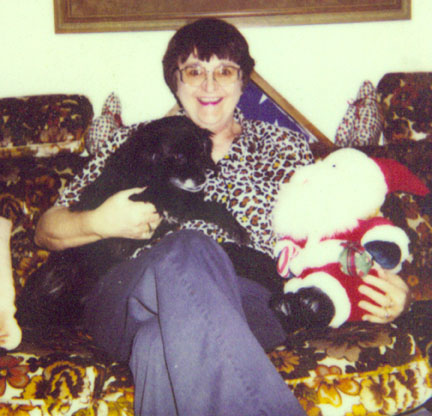 Cousin Marian Heathcote Bogenreif ("Uncle" Hepsy's girl) with her wonderful dog Skip 12/26/1996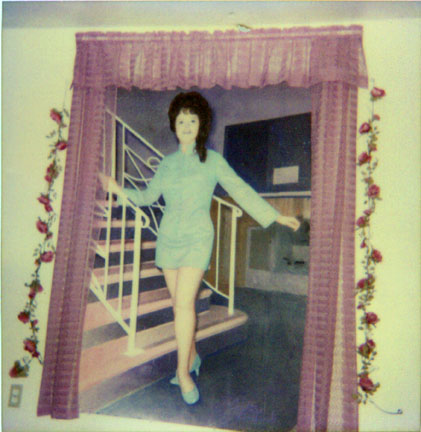 Cousin Loretta Heathcote Godbout (Uncle Hepsy's other daughter) in a picture from when she was a dance teacher.