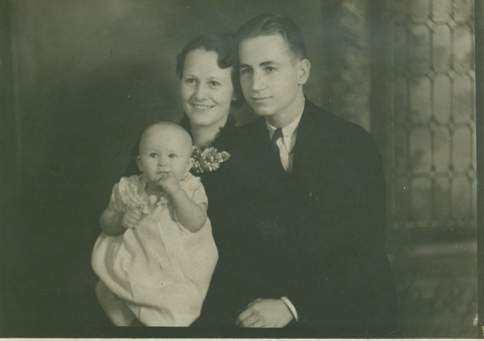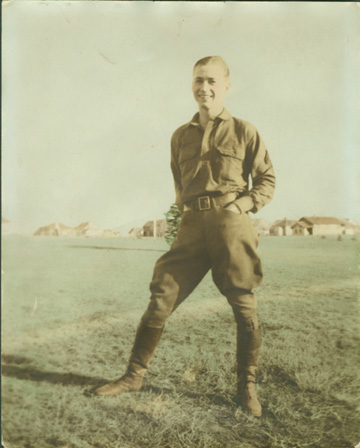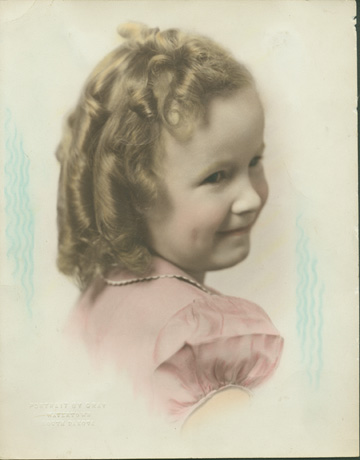 Connie Jean Stafford  about 6 years old (1941)

(the year my father died)

Waldon Warren Stafford about 1932

(He was in a cavalry reserve unit.)

Mother called this her "wedding picture" as it was the first one they could afford after their elopement in 1933.

Corinne (Connie) Heathcote Stafford and Waldon (Wally)   Warren Stafford and papoose Corinne Jean (Connie Jean) (1935)


Wally died Nov 13, 1941 before his calvary unit went to WWII. Mother said most of his comrades were killed in the war.

If you want to save any of these pictures on your storage device, RIGHT-click on the picture and then click on Save-As and type in the destination.

Asa Marvin STAFFORD and Descendants


Asa Marvin STAFFORD was born in Aug 1879 in Sand Lake, Burnett Co, WI. He died on 30 Oct 1942 in Pierre, SD.
Asa married Mabel Beryle Inez WILLIAMS on 27 Sep 1902 in Marshall, Lyon, MN. The marriage ended in divorce. Mabel was born on 5 Mar 1885. She died on 12 Oct 1946 in Tracy, MN. She was buried in Tracy, MN.   (She married a Mr. Safford!)

They had the following 10 children:


1

F


Bernice Beryle STAFFORD was born on 4 Oct 1903 in ?. She died on 14 Feb 1947 in ?.
Bernice married Herbert John RUDOLPH in 1921.


2

F


Margaret Ann STAFFORD was born on 19 Nov 1905. She died on 19 Jan 1963 in San Jose or Sunnyvale, CA.
Margaret married William (Bill) ZENZ .


3

F


Grace Emma Pearl STAFFORD was born on 19 Mar 1908. She died in Nov 1949 in New Richland, MN.
Grace married Carl REESE .  (Info from Wayne Rudolph- 2nd husband was Ray Kerr)


4

F


Donnabell Ethel STAFFORD was born in Apr 1910.
Donnabell married Fred ZENZ .


5

M


Waldon Warren STAFFORD was born on 29 Mar 1912 in Tracy, Lyon, MN. He died on 13 Nov 1941 in Watertown, SD.  The cause of death was Ruptured appendix.  (Comment from Connie Jean: my mother told me that the day he was supposed to come home from the hospital for the healed ruptured appendix, he got meningitis and died 3 days later. I remember being by myself for those 3 days, but I imagine the lady downstairs was really watching over me. I'd given away my cat so daddy could recuperate at home.)
Waldon married Corinne Gertrude HEATHCOTE in Dec 1933 in Huron, SD.

They had one daughter Corinne Jean born on Feb 21, 1935 in Pierre, SD.


6

M


Ward Grenard STAFFORD was born on 8 Jun 1914. He died in Jan 1983 in Peever, Roberts, SD.
Ward married (1) Dorothy Mae PHALEN on 20 Dec 1941 in Tacoma, WA. The marriage ended in divorce.

Ward married (2) Thelma Lorraine CROOKS on 15 Sep 1945.


7

M


Asa Marvin Jr. "Ace" STAFFORD was born on 16 Jan 1916. He died on 13 Dec 1977.
Asa married Myrtle Irene DUBA . Myrtle was born on 16 Apr 1920. She died on 17 Nov 1997.


8

F


Mabel Inez "Sue" STAFFORD was born on 5 Dec 1918 in Waseca, MN. She died in Sep 1976.
Mabel married Rush JENKINS . Rush died in Jun 1984.


9

M


Richard Wesley "Pete" STAFFORD was born on 18 Nov 1920 in Waseca County, MN. He died on 1 Nov 1958 in Lovelock, NV. He was buried in Fort Snelling Cemetery, Mpls, MN.
Richard married Audrey Ann  on 5 Apr 1945.


10

M

    John Charles "Jack" STAFFORD was born on 1 Oct 1922 in Pierre, Hughes, SD.He died on 10 Mar 1962 in Whittier, Los Angeles, CA.  The cause of death was massive heart attack.
John married Emma Ruth HUGHES on 17 Oct 1947 in Los Angeles, CA. Emma died on 26 Dec 1996.

If you are related to Asa Marvin Stafford born in 1879 (my grandfather), please contact me (Connie Stafford Van Horn) at CVanHorn@pacbell.net
The following information about Asa and his children was provided by cousin Judith (daughter of Richard Wesley "Pete").


I need pictures and/or information of the aunts, uncles and cousins. Some family stories would be nice.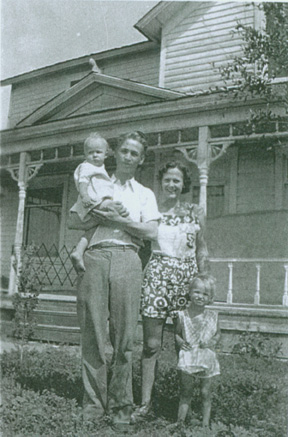 Connie Jean, Wally, Connie Heathcote Stafford and Margery Kerr, Grace's daughter- probably in Pierre, South Dakota about 1936

Picture sent by Wayne Rudolph

Waldon was not the oldest (as mentioned in the obit on Asa) according to Judy DeBlieck's information.  He was the oldest son.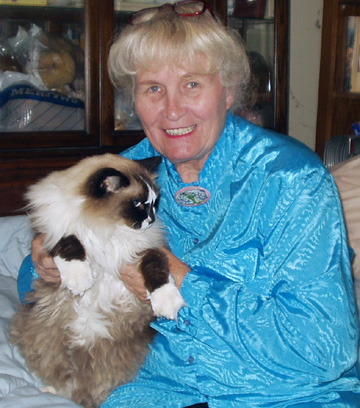 My new cat, Kabuki

October, 2004

(I lost my best buddy, Smudge, on August 20, 2004.)

Kabuki died of kidney failure just 6 weeks after I adopted him from the pound. He had only 1 kidney.  He was a beautiful and sweet cat and I hope I helped him have some good last weeks because it is killing me.

Waldon Warren Stafford descendants

If Asa is the starting point, he is #1 so Wally (being Asa's 5th child) is 1.5

1.5 Waldon Warren Stafford (born 1912)

married in 1933

Corinne Gertrude Heathcote (born 1914)


1.5.1 Corinne Jean Stafford

B: 2/21/1935

P: Pierre, SD

M: 5/2/1957 (Wade William Stinebaugh)

P: Fullerton, CA

(Divorced 1962 No children)

M: 12/31/1962 (William Boyd Van Horn)

P: Las Vegas, NV


1.5.1.1 Peter Stafford Van Horn


B: 5/22/1964


P: Keesler AFB, Biloxi, Miss.


1.5.1.2 Christopher William Van Horn


B: 8/10/1965


P: Carswell AFB, Fort Worth, TX


M: 5/7/89 Carolyn Helene Cramer


P: Las Vegas, NV
                  (Divorced 1993)




1.5.1.2.1 Louise Elysia Van Horn



B: 4/15/1990



P: Placentia, CA


M: 11/2/2001 Meredith Joy Fanelli


P: Mesa, AZ



1.5.1.2.2 Rebecca Morgan Van Horn



B: 9/7/2001 (Identical twin)



P: Phoenix, AZ



1.5.1.2.3 Sarah Corrin Van Horn



B: 9/7/2001 (Identical twin)



P: Phoenix, AZ



(Sarah is Asa's 5th child's only child's 2nd child's 3rd child)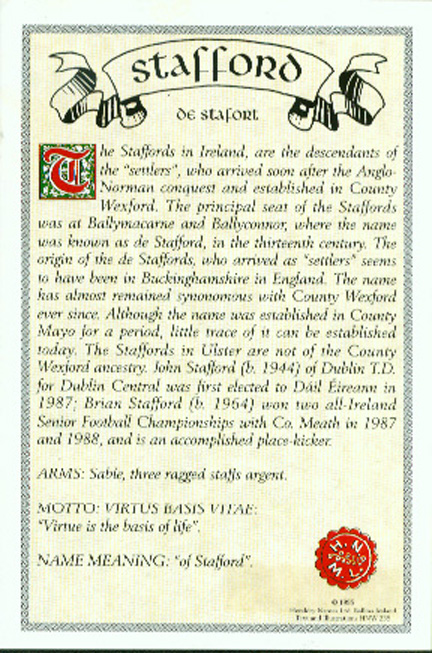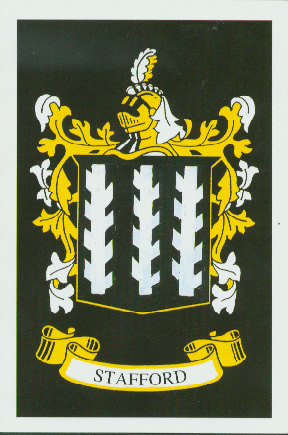 The following pictures were provided by Judith (daughter of Richard Wesley). These pictures will not load in order as I have re-arranged them several times as new pictures are received.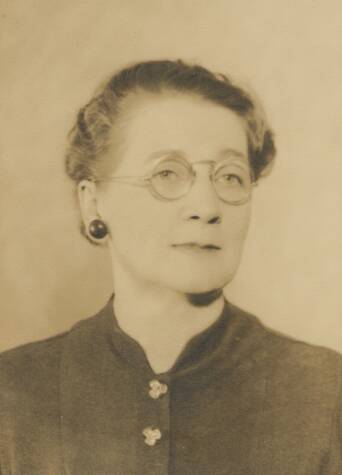 Mabel Williams Stafford Safford about 1937

She divorced Asa Sr in 1929.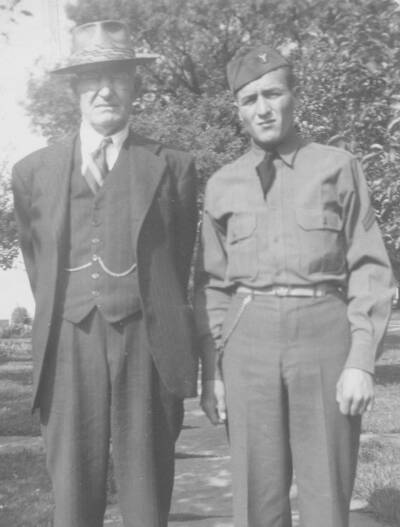 Asa Stafford Sr. and Pete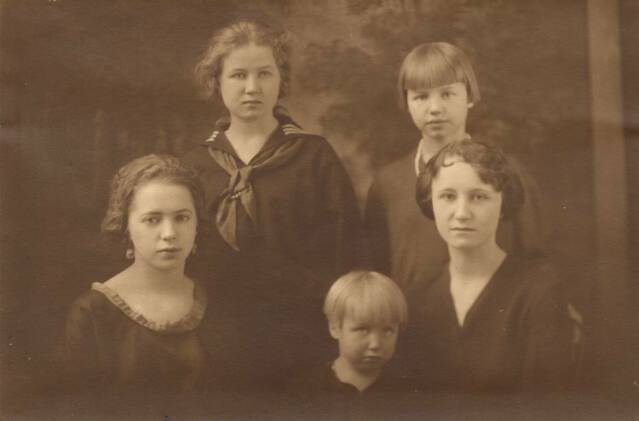 5 Stafford girls (about 1921)

Margaret Ann (about 16), Grace Emma (about 13), Mabel Inez (Sue) (about 3), Donnabelle Ethel (about 11), Bernice Beryl (about 18)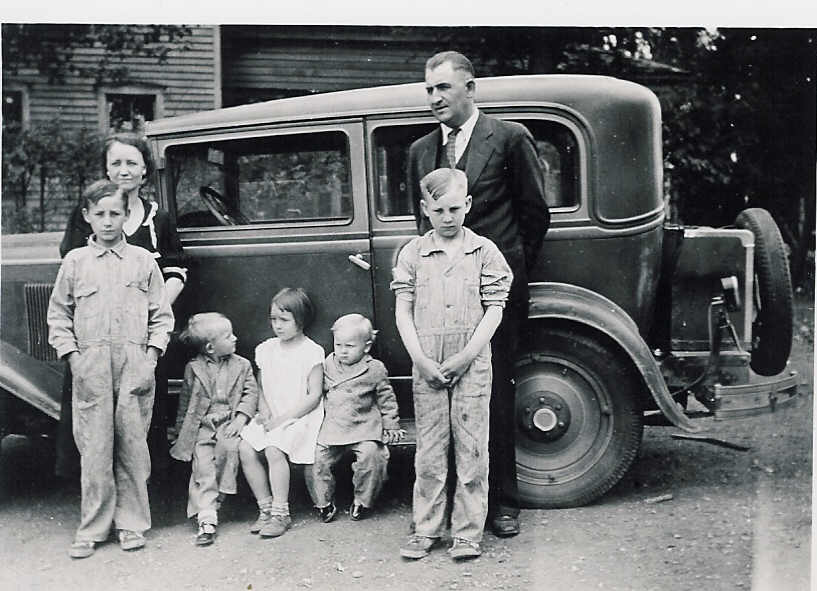 Bernice Stafford Rudolph's family (about 1933)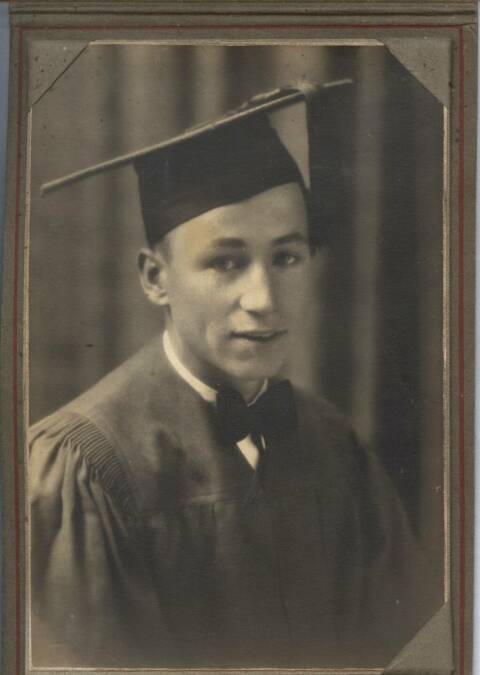 Waldon "Wally" Stafford's high school graduation

(about 1930)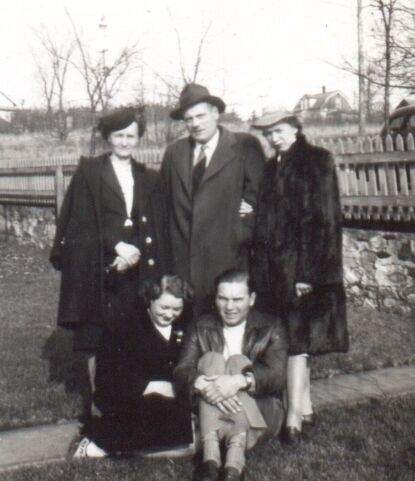 Bernice Rudolph, Bill and Margaret Zenz (standing)  Bev and Ward (sitting)

(Bev is Bernice's daughter.)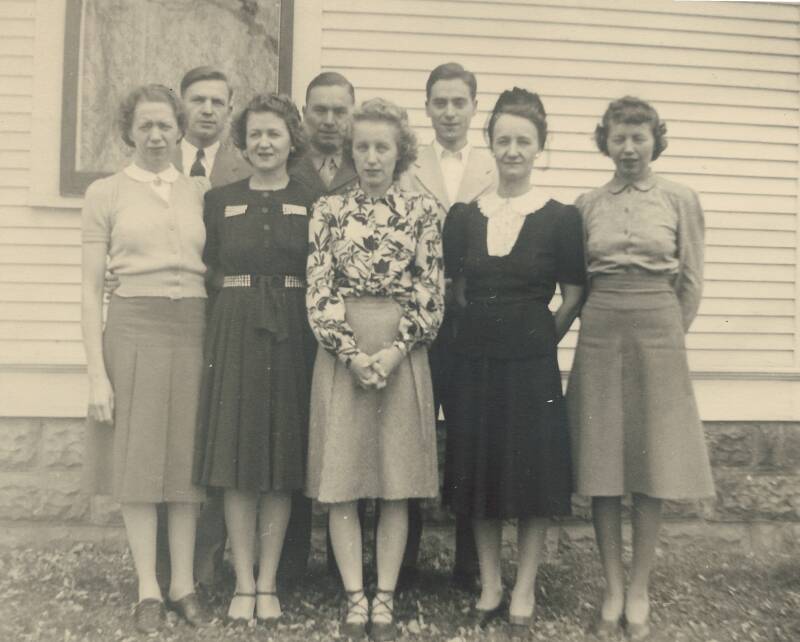 Back row: Asa Jr., Ward, John "Jack"

Front row: Margaret, Grace, Sue, Bernice, Donnabelle

Asa Sr's funeral 1942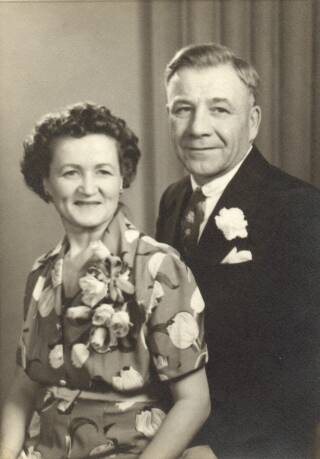 Grace and Carl Reese wedding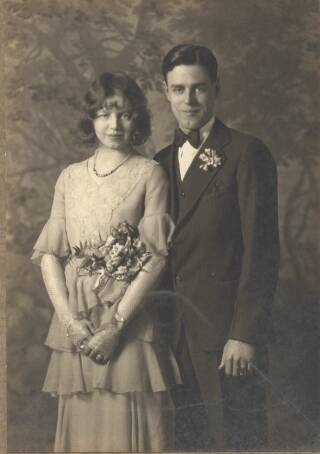 Donnabelle and Fred Zenz wedding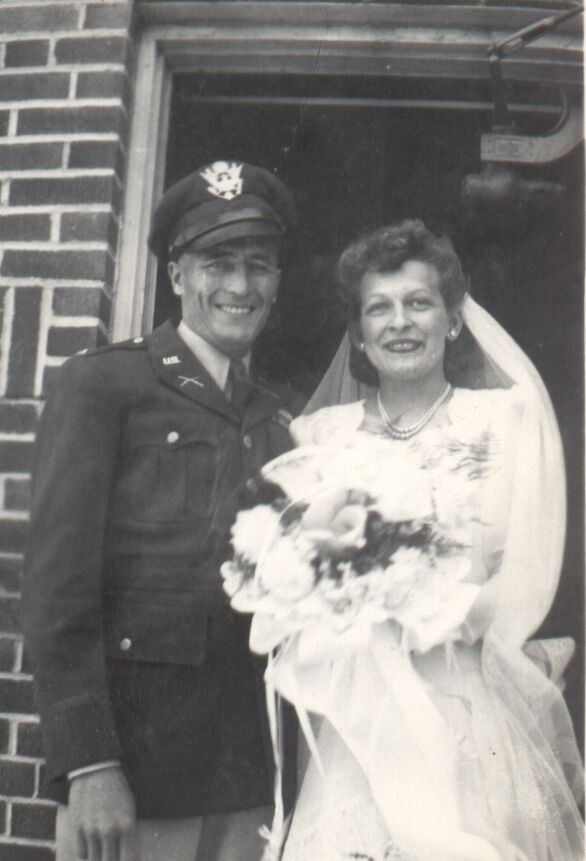 Richard "Pete" and Audrey wedding April 5, 1945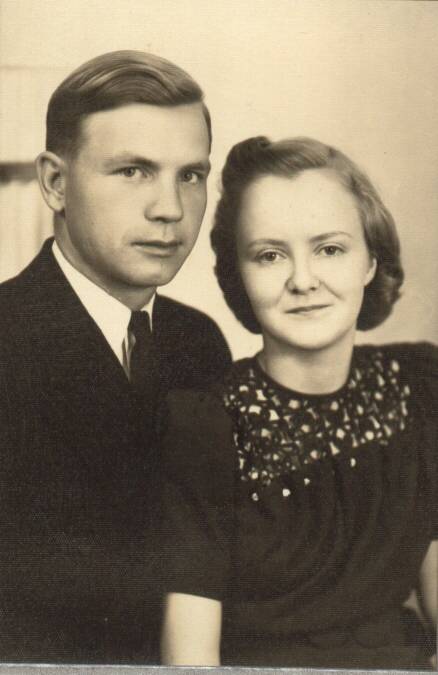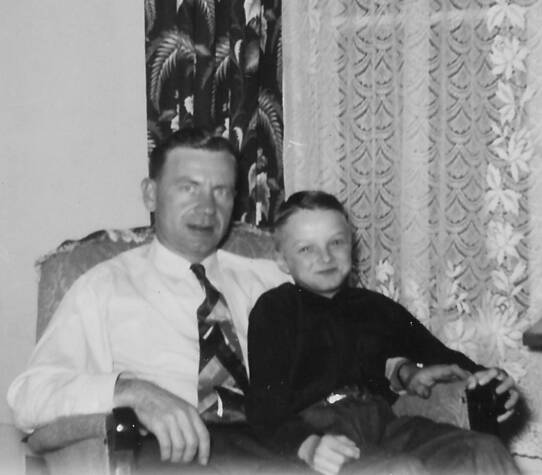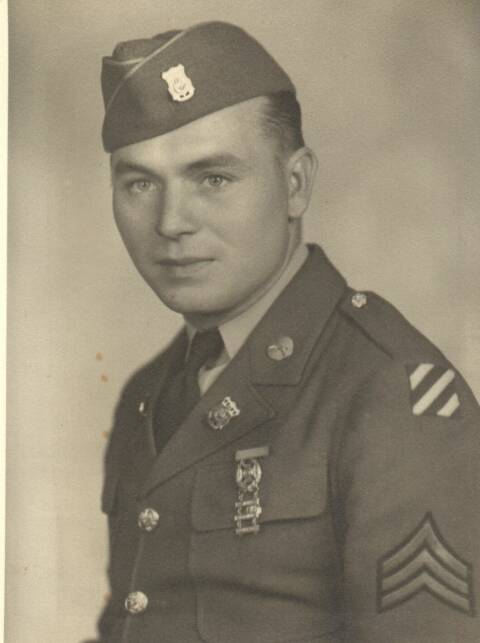 I'm hoping to get a picture of the boys when they were young.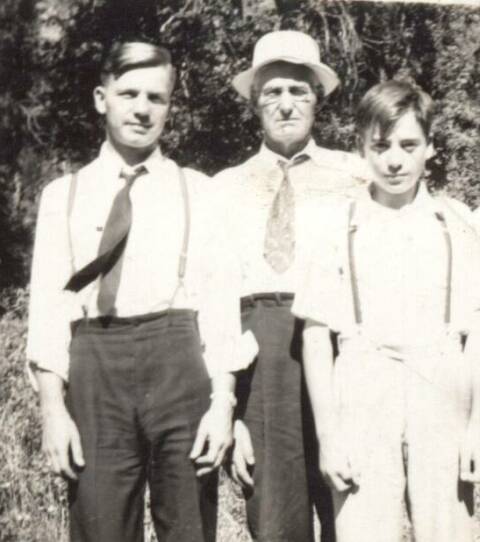 Asa Jr (22), Asa Sr, Jack  (16)

(1938)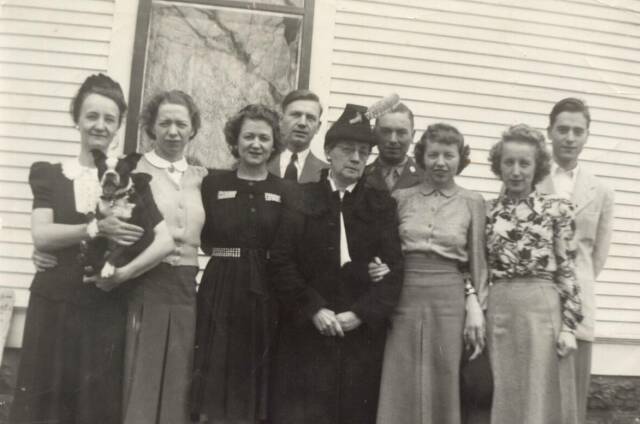 Back row: Asa Jr, Ward, Jack

Front: Bernice, Margaret, Grace, Mabel (mother of 10), Donnabelle, Sue,

(At Asa Sr's funeral Nov 2, 1942  Walden had died on Nov 13, 1941 and Pete was serving in the Pacific. The obit indicates that Mother and I went to this funeral.)